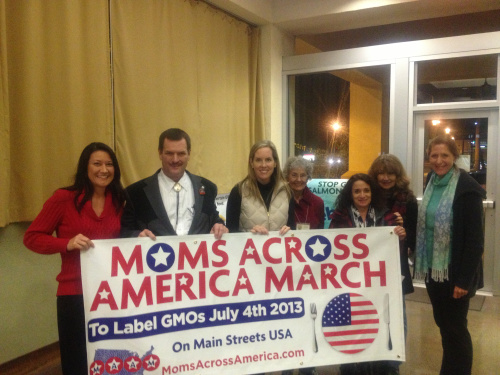 Sustainable Pulse exclusive interview with Zen Honeycutt, Founder of
Moms Across America
, on their 4th July march against GMOs in towns across the US, children with allergies, Michelle Obama and much much more…
Why has Moms Across America decided to march to support GMO labeling on July 4th in towns across the US?
Because we love our kids. And we are using our "Mom Common Sense". Over 19 animal studies have shown grave health concerns such as tumors akin to breast cancer, infertility, sterility, birth defects, miscarriages, obesity and organ damage, inflamed stomachs and autism-like symptoms. A recent corn study shows alarming differences and toxicity. Thanks to Jeffrey Smith's "Genetic Roulette" and Robyn O'Brien's Ted Talk "Patriotism on a Plate" we now know that GMOs not only have a host of health concerns but also cause unpredictable, unforeseeable and uncontrollable mutations in living things. This is unacceptable to us Moms, we have enough to worry about with diapers and tantrums…mutations? Really?
Seriously though, July 4th is our national day of celebrating our right to freedom. We are one of the only countries in the world that does not have the right to know what is in our food right now and we Moms have something to say about that. Home town parades make sense because everyone in town are there, it's local, we can share in a fun way and the media cannot ignore us. In Carmichael, CA supporters marched in a 4th of July parade in big vegetable costumes last year and had a great time. It's all about connecting with our communities.
After the failure of Prop 37 in California what gives you hope that GMO labeling bills in other states will work?
Prop 37 was a win in many ways. Pamm Larry led the way for over 6 million people to vote yes in just a few months. That's huge. We know that labelling in other states will work the supporters are committed and because we Moms are not backing down. We buy 85% of the food. And if we don't buy it, they can't sell it. So we say "No Label? Not on our Table!" Senators, manufacturers and retailers are beginning to get that we want labels. We have the right to know what we feed our children. Opposition may have a lot of money, but we have the gift of gab. Their wallets are not bigger than the love for our children.
Read More:
Moms Across America Founder: Label GMOs Because We Love Our Kids