Annie Spiegelman: The Spark Behind the California Right to Know Genetically Engineered Food Act of 2012
:
Recent polls show that
9 out of 10 Americans
want GMO foods to be labeled. Sometimes all it takes is the volatile vociferous voice of an Italian granny from Chico, California to have her Samuel L. Jackson "Snakes on a plane" moment, and bravely cry out, "ENOUGH IS ENOUGH!"
Pamm Larry, farmer, midwife, businesswoman and a gutsy grandmother of three was so distraught about our modern day food system that she quit her day job and spent her time educating herself on GMOs and how to apply for a ballot initiative. Next, she searched out her team and went straight to the state capital to painstakingly navigate through the bureaucratic muddle of tedious paperwork necessary to put an initiative on the California ballot.
Grandma Larry and her galvanized cadre of concerned citizens represent the sane, spirited voice of a growing number of skeptical Americans who don't necessarily trust better living through chemistry. There are serious and valid concerns that the biotechnology companies creating these seeds have not adequately researched the long term health and environmental effects. Bear in mind, this initiative is not demanding these foods be removed from the food system, but rather Californians are justifiably demanding to know just what they are eating and feeding their children.
You are the original instigator and the Northern California organizer of the Label GMOs campaign.What made you courageous enough to take on Monsanto and the other biotechnology companies?

I don't feel like I'm taking on Monsanto or the others. I'm simply taking a strong stand for our right to know what's in our food. I woke up to the knowing that it was time for me to do more than whine and be depressed about our food situation. I've since come to believe that I'm so glad I let go of the belief that it was someone else's job to get this done. If I care, it's mine. It's been a quite the eye opener.
Had you been politically active in the past, and how painful was the application process for a ballot initiative?

I've always been politically aware, but this it the first time I've done any organizing. The actual paperwork of forming the committee was easy. The part about writing it was an amazing process to witness... and I need to be infinitely clear that I did not write this. Lawyers, politicians, scientists, processors, farmers all came together. No one, least of all me, would have wanted me to write this. It was a labor of love that these folks devoted themselves to and I am so grateful to them!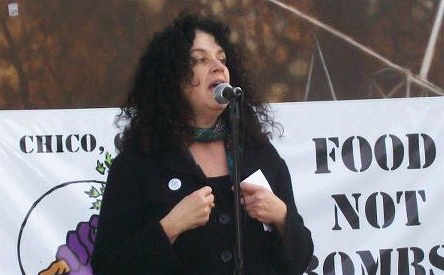 Pamm Larry speaking in California. Photo courtesy of Labelgmos.org
Who came on board next to help?
The Organic Consumers Association
(www.OCA.com)
came on board. Ronnie Cummins, Alexis Baden-Mayer and the rest of the team were right there from the beginning and have continued to be a driving force for truth telling in the organic industry and keeping the grassroots strong. I admire them immensely. Jeffrey Smith and the Institute for Responsible Technology
www.responsibletechnology.org)
helped out at a crucial point in our grassroots building. Because they were willing to put out the word to their members to help me get meetings in communities, labelgmos.org
(www.labelgmos.org)
, the original grassroots effort, grew exponentially in a very short time.
I commend Stacey Hall, who helped organize and support the leaders in the south, and the over 100 leaders around the state who believed in this long before anyone else did. They are volunteering 20-40 hours a week to see this gets on the ballot and then voted on come November. Then there's another hero; our webmaster, who has created an amazing site on no budget to speak of.